Recent updates:
Los Angeles Police Chief William J. Bratton said Wednesday that the department's controversial policy on dealing with illegal immigrants was widely misunderstood by the public and some of his own officers, and he would clarify the rule in the next couple of weeks. -Los Angeles Times
***
Odds are you've never heard of 17-year-old Jamiel Shaw Jr. At least not until this week.
But if you're a parent, you know something about what the young man represented.
You see, for 17-years Shaw's parents poured their lives into raising a child that would know the difference between right and wrong. The value of hard work. And how to be successful in life.
Imagine their devastation when they learned someone–allegedly a gangster–simply walked up to their first born and blew him away. Shaw's mother, Army Sgt. Anita Shaw, was informed of her son's murder while she served her country in Iraq.
Jamiel Shaw Jr. was set to graduate from high school this year. And, oh yeah, he was a helluva football player. Stanford and Rutgers were among the schools pursuing him.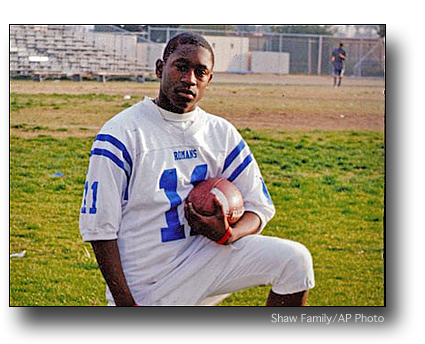 The "football star" angle's been heavily played-up in media reports ever since Shaw was murdered Sunday as he walked home while speaking with his girlfriend on his cell phone.
But Shaw was more than a football player. He was a son. A strengthening testimony to the love and hard work his parents had invested throughout his short life.
Just as so many of you have done for your children.
That's why, if you're a parent, you have an intimate understanding of what Jamiel Shaw Jr. represented: The hope and love we have for our kids. And yes, the worry, too.
Shaw's parents have already shown great strength. Not only in media interviews. But in a a community gathering aimed at addressing recent violence.
I strongly recommend that you watch an interview with Shaw's parents conducted by Shephard Smith of FOX News. Hang in there until the very end and you'll be rewarded with the poignant words of the father, Jamiel Shaw Sr.
Other Links:
KABC-TV