NM vs. Wayne Bent / December 12, 2008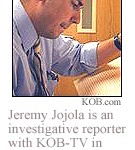 Investigative Reporter Jeremy Jojola continues to make contributions here as a special correspondent to Beyond90Seconds.com. Since Monday, Jojola has been in Taos, New Mexico covering the Wayne Bent trial for KOB-TV. During each day of the trial, Jojola has been reporting for this blog, too, via e-mails, text, pics, Twitter updates and audio interviews. His updates will begin appearing in this post shortly.
9:05am (MST)
Trial set to begin in a few minutes.
Shot of courtroom taken at 9 am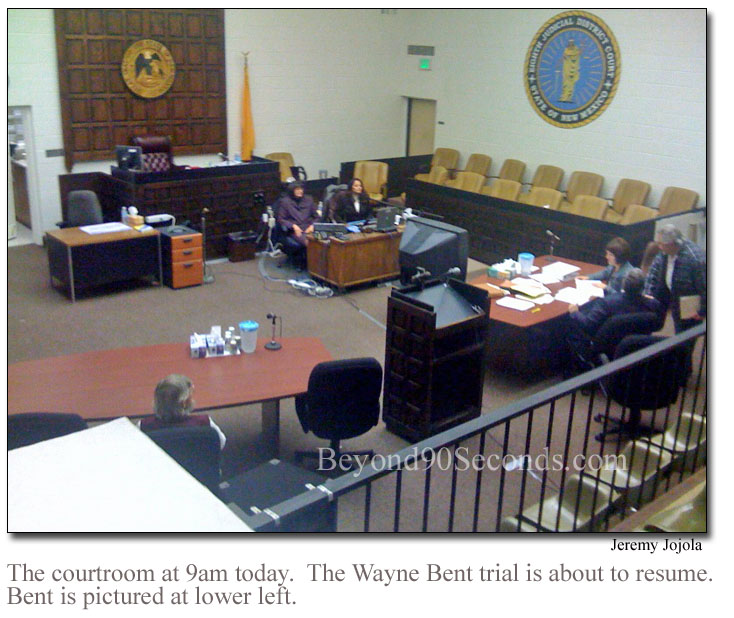 9:15am (MST)
Trial still hasn't resumed. We are still waiting
9:34am (MST)
(Jury now in courtroom. From Jeremy's Twitter page.)
Judge reading instructions to jury / less than 30 seconds ago
9:48am (MST)
(From Jeremy's Twitter page.)
Prosecution begins closing argument: case not about religion, it's about law / 4 minutes ago
9:51am (MST)
(From Jeremy's Twitter page.)
Prosecutor Emilio Chavez: Bent used authority to cause girls to be naked with him / 1 minute ago
10:03am (MST)
Prosecutor Chavez: Bent's beliefs don't matter, subject to law like everyone else / 1 minute ago
10:05am (MST)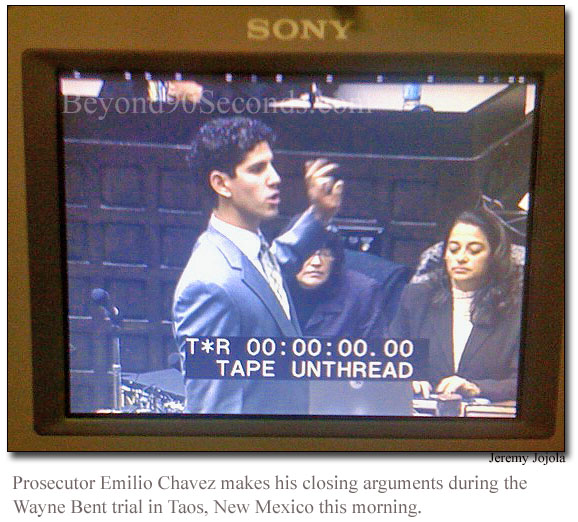 10:22am (MST)
(From Jeremy's Twitter page.)
Bent's attorney Sarah Montoya begins her closing arguments, alludes that state made Bent look like "weirdo" and "pervert" / 12 minutes ago
Bent's atty Sarah Montoya: State didn't prove case, there's no evidence of crime / 4 minutes ago
10:28am (MST)
(From Jeremy's Twitter page.)
Bent's atty Montoya: Common sense must take over in this case / less than a minute ago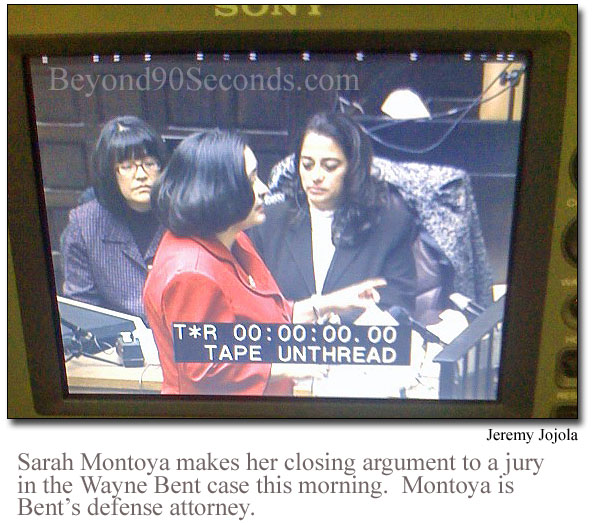 10:46am (MST)
(A picture related to this post will be posted soon.)
Bent wiping away tears during his attorney's closing arguments..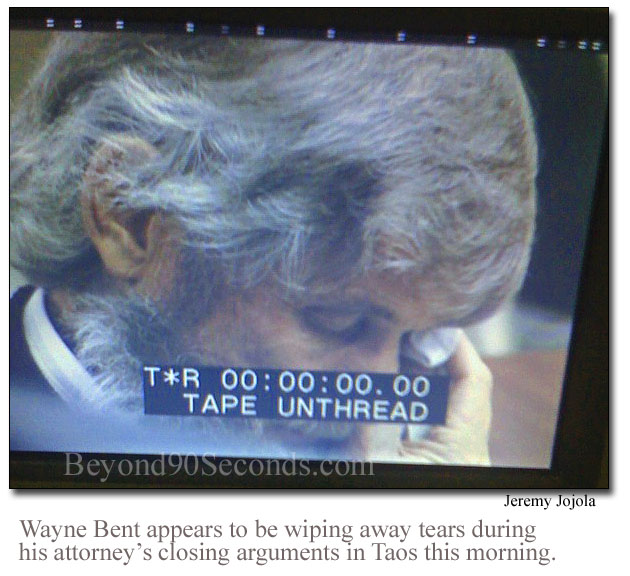 10:59am (MST)
(From Jeremy's Twitter page.)
Closing arguments end. Judge giving more instructions to jury / 1 minute ago
Jury begins deliberations / half a minute ago
11:21am (MST)
(Please stand by for just-completed audio report from Jeremy Jojola.)
11:45am (MST)
(AUDIO: The link below is an mp3/audio file of Jeremy Jojola's report to Beyond90Seconds.com filed via cell phone at 11:11am MST today.)
12:33pm (MST)
(Jeremy Jojola provided the following picture at 12:14pm MST.)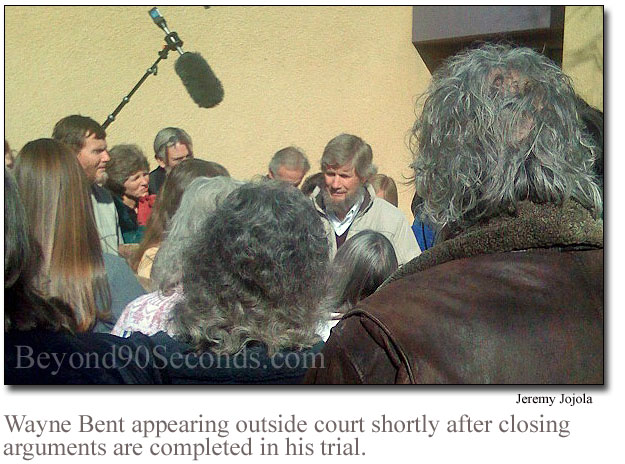 12:46pm (MST)
(Jeremy Jojola just phoned to describe an interesting development unfolding outside the courthouse. According to Jojola, Bent is surrounded by his followers and explaining that if he is convicted and sent to prison, he will not eat. Please stay tuned for just completed audio interview with Jojola.)
1:18pm (MST)
(From Jeremy's Twitter page.)
Outside courthouse, police keeping an eye on crowd. There was a brief verbal argument between a current and a past church member. / 14 minutes ago
1:20pm (MST)
(AUDIO: Jeremy's Jojola's report filed with Beyond90Seconds.com at 12:39pm MST.)
1:47pm (MST)
(Jeremy Jojola's live report for KOB-TV's noon MST newscast will appear directly below shortly.)
[wpvideo NArqrmMs w=420]
1:57pm (MST)
(From Jeremy's Twitter page.)
Jury deliberations continue into third hour. Bent followers, media milling about outside courthouse. / 3 minutes ago
2:29 (MST)
(From Jeremy's Twitter page.)
Jury still deliberates, courtroom open for audience, idle chatter among spectators/Bent followers continues / 3 minutes ago
3:08pm (MST)
(A bit of irony for you. At 2:50pm MST, I sent Jeremy an e-mail stating, "You probably already know this, but just in case….If the jury has any questions, court may be called back into session w/o the jury present. Then, if the judge so orders, an answer to the jury's question would be delivered to the jury room. At least, that's what I recall seeing before in my court daze." Then, at 3:02pm MST, Jeremy posted the following on Twitter.)
Court called back into brief session for jury question…question unknown. Deliberations resume..
(Cue twighlight zone music, please…)
3:09pm (MST)
Mark:
As soon as your email came down, we were in a brief session for this reason….deliberations continue…..interesting you predicted this…..
(It's not really an uncommon development at this point in a trial. The timing was sheer luck.)

3:13pm (MST)
(I'm e-mailing Jeremy back to ask if he knows the question(s) asked by jurors. Questions can sometimes offer a strong indication of where a jury is going…)
3:19 (MST)
(Well, it's right there in his Twitter post, "question unknown". But perhaps he's since learned the question?)
3:21pm (MST)

I asked Sara Montoya, she says the Judge prefers not to reveal question….which is strange because it's part of court record, at least that's my assumption
3:48pm (MST)
(Photo sent with this e-mail will be posted shortly.)
Bent followers waiting in court…..they appear a bit nervous….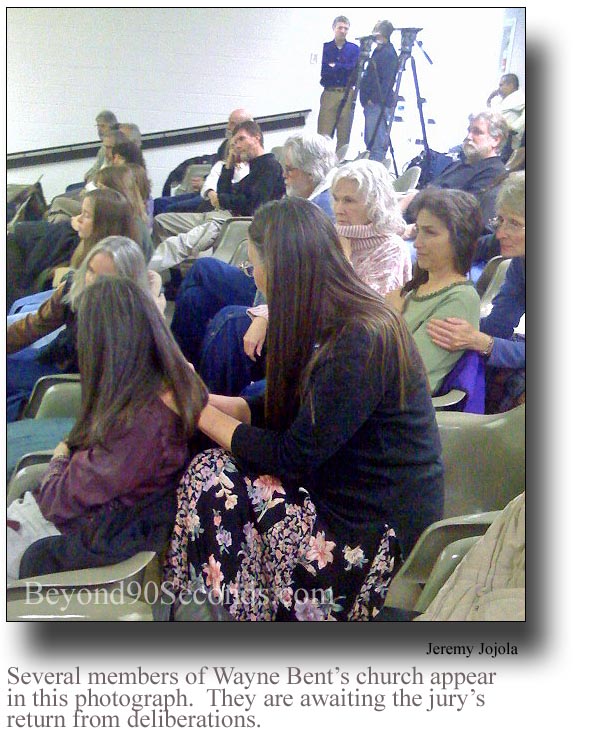 4:29pm (MST)
(From Jeremy's Twitter page.)
Deliberations continue…..courtroom waits. / less than a minute ago
4:45pm (MST)
(From Jeremy's Twitter page.)
Jury dissmissed for weekend. Deliberations continue Monday. No verdict. / 4-minutes ago
8:35pm (MST)
(Jeremy Jojola's 6pm live report for KOB-TV appears below.)
[wpvideo xsUSzLlS w=420]