NM vs. Wayne Bent / December 10, 2008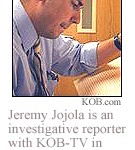 KOB-TV Investigative Reporter Jeremy Jojola continues to make contributions here as a special correspondent to Beyond90Seconds.com. Jojola's e-mails, text, pics and even some of his Twitter updates will appear below. I'll also include the time (MST) the information was sent to this blog.
9:03am (MST)
Trial is about to resume. Audio recording of alleged victims will be allowed, but no video. I'll keep you updated with testimony.
9:21am (MST)
17 yr old alleged victim on stand. Smiled at Bent when she walked in.
10:06am (MST)
(Jeremy Jojola just phoned to say that court is taking a five-minute recess after the alleged victim "Healed" began crying on the stand, ultimately proclaiming her love for "Michael". My conversation with Jojola was a short one, but I'll post the audio of Jeremy's report shortly.)
10:38am (MST)
(About 15 minutes ago, I posted a story about an ABC News "exclusive" with Wayne Bent. I've already updated that post with some "analysis".)
11:07am (MST)
(The following link is podcast featuring Jeremy Jojola's phone report to Beyond90Seconds.com at 10:02 this morning (MST)).
11:39am (MST)
(from Jeremy Jojola's Twitter page.)
2nd alleged victim on stand.

Alleged Victim: Lying naked with Michael (Bent) gave me an anchor

Alleged victim: Nothing sexual w/ Michael (Bent), says naked encounter religious experience

Alleged victim remains on stand. Her journal introduced as evidence

Alleged victim cries on stand: "I love Michael," claims she wanted to be naked w/ God

Alleged victim: I know in my heart what Michael (Bent) was saying was true

17 yr. old allleged victim on stand. Smiled at Bent in courtroom.
12:27pm (MST)
(Court has recessed for lunch. Just conducted phone interview with Jeremy Jojola that went about 10-minutes. Will post it here shortly. Jojola recaps this morning's testimony from two alleged victims and much more.)
12:45 (MST)
(VIDEO: Jeremy Jojola's noon live report for KOB-TV appears below. His audio interview w/Beyond90Seconds.com will be posted shortly.)
[wpvideo lvUuWjMF w=420]
1:16pm (MST)
(AUDIO: Jeremy Jojola's phone report to Beyond90Seconds.com filed at 12:11pm MST can be heard by clicking on the the link below.)
1:39pm (MST)
(Jeremy Jojola has just informed me that court just took a very brief recess after Bent's attorney expressed concerns about "inaccurate" reporting. Apparently, a juror has also raised a concern that he/she may have been shown in a news report. Please stay tuned…)
1:42pm (MST)
(Thought some of you might find the coverage interesting from the Taos News: Article, Gallery.)
2:04pm (MST)
(AUDIO: Jeremy Jojola tells Beyond90Seconds.com that defense attorney Sarah Montoya has just voiced a few concerns about media coverage.)
2:21pm (MST)
(Jeremy Jojola's most recent Twitter post.)
Dr. Elizabeth Dinsmore: victims "groomed" by Bent in the same manner as a sexual predator
3:40pm (MST)
(AUDIO: Jeremy Jojola files another interesting report about the Wayne Bent trial during an afternoon recess. The report was filed at 2:56pm MST. Issues addressed include state's expert witness who just finished testifying and media coverage; to include mention of interview defense attorney previously gave to Beyond90Seconds.com.)
3:43pm (MST)
Benavidez is still here. That young guy I talked about. His name is Emilio something. I'll get it by end of Day.
3:59pm (MST)
(In Jojola's most recent audio interview (above), he refers to my November 3, 2008 interview with Bent's attorney, Sarah Montoya. You can find a link to the audio interview with Ms. Montoya in my post headlined, "Wayne Bent's attorney speaks out." The unedited interview runs 39:09.)
4:28pm (MST)
(Just a note here to let you know that I've just added Jojola's 12/9/08 6pm to yesterday's post titled, "Day 2: Reporter's updates from Wayne Bent trial". The report features interviews with former members of Bent's church; Johnny Miller and Allen Armstrong.
4:29pm (MST)
Emilio Chavez is his name.
5:05pm (MST)
(Jeremy Jojolo posted the following on Twitter about one hour ago.)
Bent's attorney is asking court to dismiss charges. State says it has met it's burden of proof. Update to come soon on this motion.
5:42pm (MST)
(Jeremy Jojola posted the following on Twitter three minutes ago.)
Judge does NOT grant motion to dismiss Bent's charges. Today, sex abuse expert says Bent may have groomed teens like a sex predator.
6:31pm (MST)
(Jeremy Jojola posted the following on Twitter 38 minutes ago.)
Bent trial resumes tomorrow at 9 am sharp. Bent yet to testify.
12:54am (MST)
(AUDIO: Shortly after the third day of the Wayne Bent trial concluded, Jeremy Jojola filed a report with Beyond90Seconds.com at 6:40pm MST. You can listen to it by clicking the link directly below).
Day 1: Updates on Wayne Bent case from Taos courthouse
Day 2: Reporter's updates from Wayne Bent trial
Day 3: Reporter's updates from Wayne Bent trial
Day 4: Reporter's updates from Wayne Bent trial
Day 5: Reporter's updates from Wayne Bent trial