Updated at 10:33am (MST)
On its Web site, ABC News has just published its "exclusive" interview with Wayne Bent. While the article (written by three people) includes information from Taos on Tuesday, the actual interview with Bent took place on October 20, 2008 with Good Morning America.
The ABC News story on the 'net appears beneath the headline, "Exclusive: Sect Leader on Trial for Alleged Molestation Speaks to 'GMA'." Here is an excerpt.
"I'm not saying I had sex with girls and I call it religion. … I never touched any sexual part ever," Bent said. "They were there for healing, not for sex. They didn't come to have me have sex with them." (ABC News)
Analysis
It'll be interesting to see if the prosecution draws attention to an October 19, 2008 letter written by the alleged victim L.S. (aka "Healed") to prosecutor Tomas Benavidez. Here is an excerpt of that letter: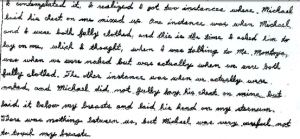 This letter was obtained by Beyond90Seconds.com more than a month ago and made available as a pdf download on November 3, 2008. The download appeared near the bottom of Beyond90Seconds.com post, Wayne Bent's attorney speaks out.
More recently, the "mirror site" for Strong City's Web site posted the excerpt of "Healed's" letter that appears above.