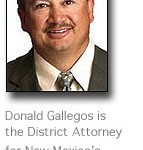 This was supposed to be the moment to close the year by prosecuting a high-profile case. And that's the way the week started for 8th Judicial District Attorney Donald Gallegos.
But tonight, Gallegos finds himself inside a Taos hospital at his mother's bedside.
"It doesn't look good," Gallegos told Beyond90Seconds.com in an exclusive interview this evening.
Gallegos had spent Monday and much of Tuesday prosecuting the State's case against controversial church leader Wayne Bent.
Gallegos said he learned of his mother's injury from his sister after returning from lunch Tuesday. He said his sister was careful not to alarm him, but also knew he had to be told about their mother's condition.
Gallegos told Beyond90Second.com that the news of his mother's condition prompted the judge to send the jury home early Tuesday.
70-year-old Petronila "Peggy" Gallegos broke her hip Tuesday morning. To make matters worse, she also has pneumonia. According to her son, doctors know they need to operate on the hip, but can't just yet. Mrs. Gallegos is simply too weak. The pneumonia must be dealt with first.
Gallegos also shared that District Judge Gerald E. Baca offered the State the opportunity to vacate the trial and that defense attorney Sarah Montoya graciously agreed that both sides could pick-up where they left-off at a later date.
The DA declined.
"I said, 'No, it took a while to get the case to trial.'"
So many people had already traveled so far…scheduled their calendars.
"It (the trial) just had to go on."
Senior Trial Prosecutor Emelio Chavez is pinch-hitting for Gallegos.
"I have the utmost confidence in my staff," Gallegos said.
copyright 2008 Beyond90Seconds.com