(Las Vegas, New Mexico) A New Mexico judge has just sentenced embattled church leader Wayne Bent to 18 years. This information comes from KOB-TV investigative reporter Jeremy Jojola's Twitter updates from inside the courtroom.
Jojola also reports that 8 of the years in Bent's sentence are suspended.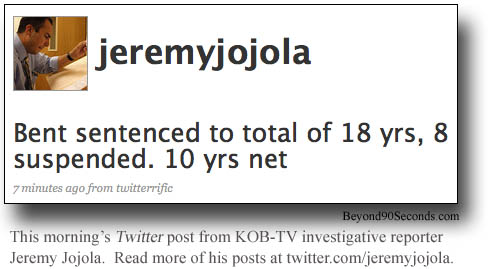 Earlier this month, a Taos jury convicted Bent of one count of second-degree criminal sexual contact of a child and two counts of contributing to the delinquency of a minor.
Please go here for more on today's develoments in court.
Beyond90Seconds.com also has an extensive archive of stories about the Wayne Bent case. The archive includes numerous court documents, photographs, and audio & video interviews with key people in this compelling story. Please do note that the archives consist of seven pages of posts, so be sure to click the "older entries" link at the bottom of each page.