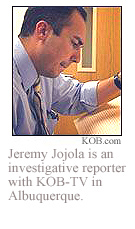 KOB-TV Investigative Reporter Jeremy Jojola is in Taos, New Mexico covering the Wayne Bent trial. Jojola continues to make contributions here as a special correspondent to Beyond90Seconds.com. His e-mails, text, pics and even some of his Twitter updates will appear below. I'll also include the time (MST) the information was sent to this blog.
9:18am (MST)
(Picture from inside of courtroom sent w/this update will appear here shortly.)
Taken@ 9:14…. Waiting for jury….
9:32am (MST)
(From Jeremy Jojola's Twitter page.)
Waiting in courtroom for Judge/Jury for Bent trial to resume….snowing in Taos, about one to two inches on ground. Bent followers wait too / 12 minutes ago
Brief session in court this morning for Bent trial. Jury resumes deliberations. / 4 minutes ago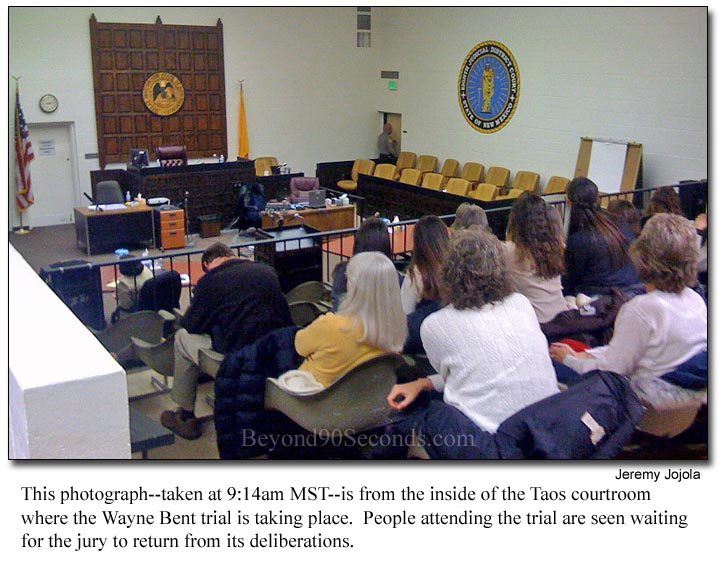 9:47am (MST)
(Jeremy Jojola just phoned-in with a brief update. Will post it here shortly.)
10:12am (MST)
(AUDIO: Phone update from Jeremy Jojola filed at 9:39am MST today.)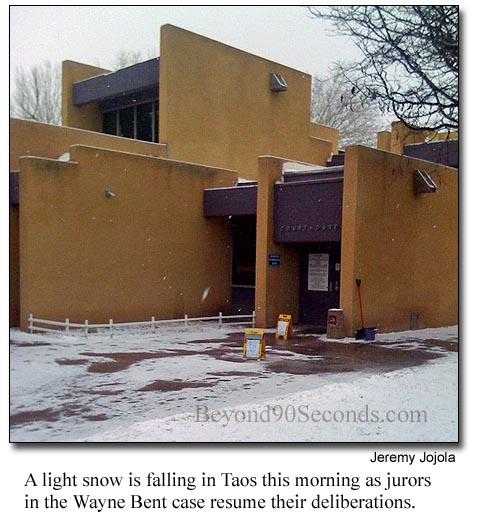 10:38am MST
(From Jeremy Jojola's Twitter page.)
Court to be called back into session. Word that there is a verdict…..update to come. / less than 10 seconds ago
10:44am (MST)

Stand by for verdict.. / half a minute ago
10:52am (MST)
(From Jeremy Jojola's Twitter page.)
guilty on one count criminal sexual contact, guilty on two counts contrib. to del. of minor, not guilty on one count of sex contact
11:00am (MST)
(From Jeremy Jojola's Twitter page.)
3/4 counts guilty, not guilty on first count of csc of minor / 7 minutes ago
Bent will remain on house arrest / 6 minutes ago
12:56pm (MST)
(I've just finished a phone interview with Jeremy Jojola. He reports that sentencing is scheduled for December 29th. Audio of the phone interview will be posted shortly.)
1:07pm (MST)
(Jeremy's e-mail response to my question, "Will Bent remain under house arrest until sentencing?")
Yes. Will stay on house arrest.
1:12pm (MST)
(Jeremy Jojola's noon MST live report from Taos for KOB-TV. His interview w/Beyond90Seconds.com still to come…)
[wpvideo rZc0v72m w=420]
1:53pm (MST)
(AUDIO: Jeremy Jojola's interview conducted at 12:43pm MST with Beyond90Seconds.com following the verdicts in the Wayne Bent trial.)
1:54pm (MST)
(Although I wrap-up my interview with Jeremy by stating that the interview completes the Beyond90Seconds.com Wayne Bent trial coverage, I do realize the sentencing phase awaits on December 29. Of course, this blog will cover that development, too.)
7:10pm (MST)
(Jeremy Jojola's 5pm MST live report for KOB-TV appears below. This story includes interviews with Wayne Bent and Jeff Bent.)
[wpvideo 9Xrheg1S w=420]